Judas Priest - Reflections - 50 Heavy Metal Years Of Music luistersessie 13.10.2021 | 013, Tilburg
Frans Neelen | 16 oktober 2021
Do you want some Heavy Metal ….. do you want some Judas Priest !!!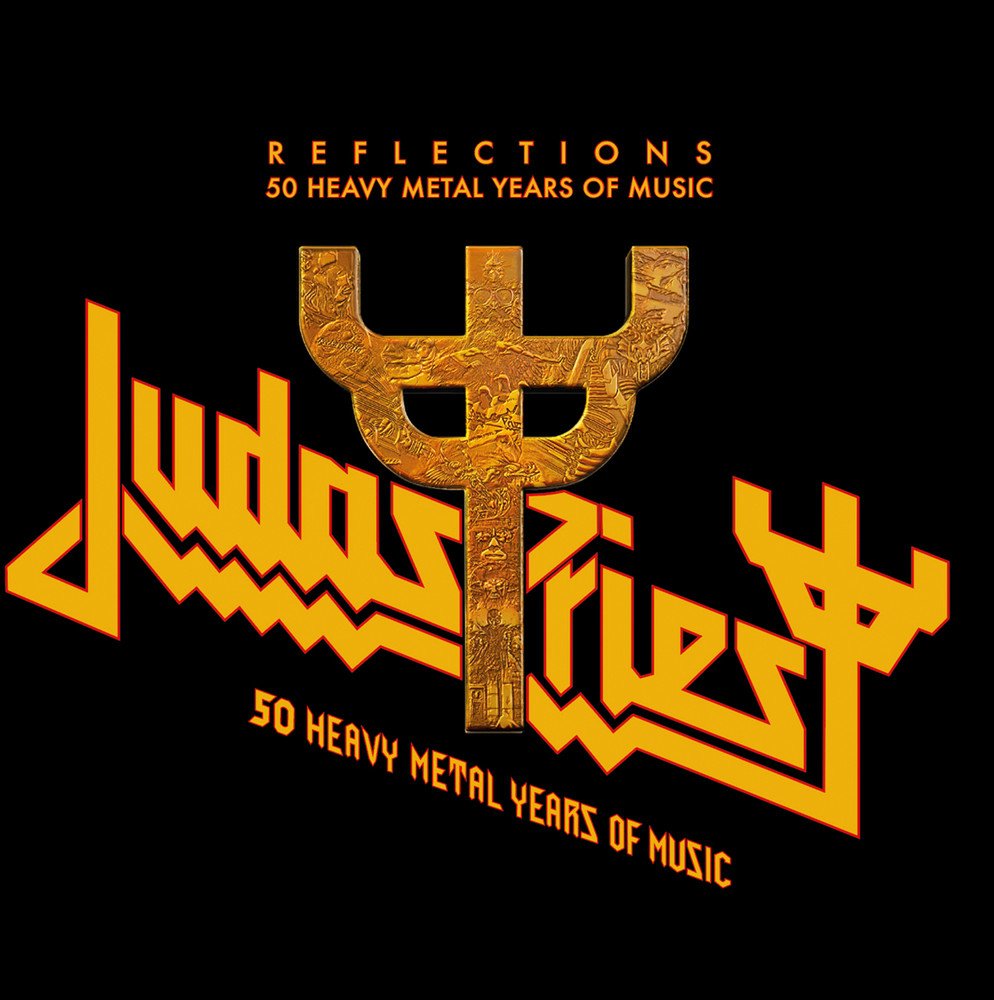 Elke rechtgeaarde metalhead zal deze woorden van de enige echte Metalgod al eens of meerdere malen zijn toegeschreeuwd. Reeds 51 jaar verblijden ze ons al met tal van historisch verankerde metal tracks die nog steeds geenszins gedateerd klinken. Het 50 jarig bestaan is uiteraard reden voor een vette party maar daar werd door een bepaald virus een stokje voor gestoken, daarom dus maar een jaartje later.. De tour werd uitgesteld evenals de niet mis te verstane release van een superdeluxe boxset met, jawel, 42 cd's met daarop alle studio en officieel verschenen live concerten plus een aantal niet eerder verschenen concertregistraties. Een leuk presentje voor onder de kerstboom of om te vragen aan Ome Sint want zelf moet je er wel zo'n slordige 400 euromuntjes voor neertellen. Wat je er precies allemaal in vind staat hieronder vermeld.
Gelukkig is er voor de fan die alles al zo'n beetje in de kast heeft staan ook een 16 track tellend exemplaar op cd en vinyl uitgebracht waarop naast 6 studiotracks uiteraard de niet eerder uitgebrachte live tracks het meest interessant zijn. De studio tracks zijn nu eens niet de meest bekende nummers en dat siert deze editie. Voor een eerste beluistering zijn we als gelukkige, naast een aantal prijswinnaars, uitgenodigd om deze in de kleine zaal van het Tilburgse 013 2 dagen voor de release te beluisteren en de beloofde verassing mee uit te pakken.
Rond 19.00 uur mogen we de zaal betreden waar om in de stemming te komen alvast de nodige Judas Priest klanken ons tegemoet komen maar dan gecoverd door een keur van artiesten. Rond 19.30 uur wordt het echte werk verwacht maar een aankondiging hiervan volgt echter niet. Wellicht dat het aan mij ligt maar ik had verwacht dat er hiervan melding gemaakt zou worden. De release wordt wel gedraaid maar in willekeurige volgorde en zeker niet alle tracks heb ik gehoord. Gelukkig betreft dat de studio tracks die toch wel bekend zijn maar de live tracks mogen er zeker zijn. Potverdikke wat zijn en blijven het toch heerlijke tracks die ook steeds weer fantastisch worden vertolkt. Of het nu 1978 of 1988 betreft, het klinkt allemaal als een klok ook al heb je ze al vele malen gehoord. Vooral de energieke, opgeklopte versie van 'The Sinner' en het live vele malen vetter klinkende 'Out In The Cold' maken het naast de ander klassiekers een aanschaf zeker de moeite waard.
Stipt om 20.30 uur stopt de muziek en staat de verassing in de vorm van tribute band Concrete Priest op het podium. Nou, dat is niet bepaald verkeerd om de rest van de avond door te brengen. Met The 'Hellion/Electric Eye' wordt er onwennig en slordig afgetrapt maar het navolgende 'Metal Gods' stampt er een stuk beter op los. Daarna wordt er vooral teruggegrepen op het pre 'Britisch Steel' tijdperk en krijgen we, ook qua zang, prima uitvoeringen van o.a. 'The Green Manalishi', 'Diamonds And Rust', 'Victim Of Changes' en vooral een heel imponerende versie van 'Exciter' voorgeschoteld. Afgesloten wordt er nog met heerlijke versies van 'You've Got Another Thing Coming' en 'Hell Bent For Leather' voordat er om het hardst geschreeuwd mag worden om 'The Sinner', Zeer vermakelijk optreden en dito verassing derhalve voorzien van adequate zang hetgeen niet bepaald makkelijk is om de enorme schoenen van Rob Halford te vullen.
Al met al een leuk avondje met vele bekenden, heerlijk bier en fantastische muziek op plaat en podium. Het enige minpuntje vond ik toch wel dat er geen enkele aankondiging of specifieke aandacht aan het album werd besteed, toch iets waar je wel voor kwam. Verder niets dan lof voor dit soort avondjes heerlijk vertier. Nu maar hopen dat het echte werk volgend jaar wel te zien en te horen zal zijn.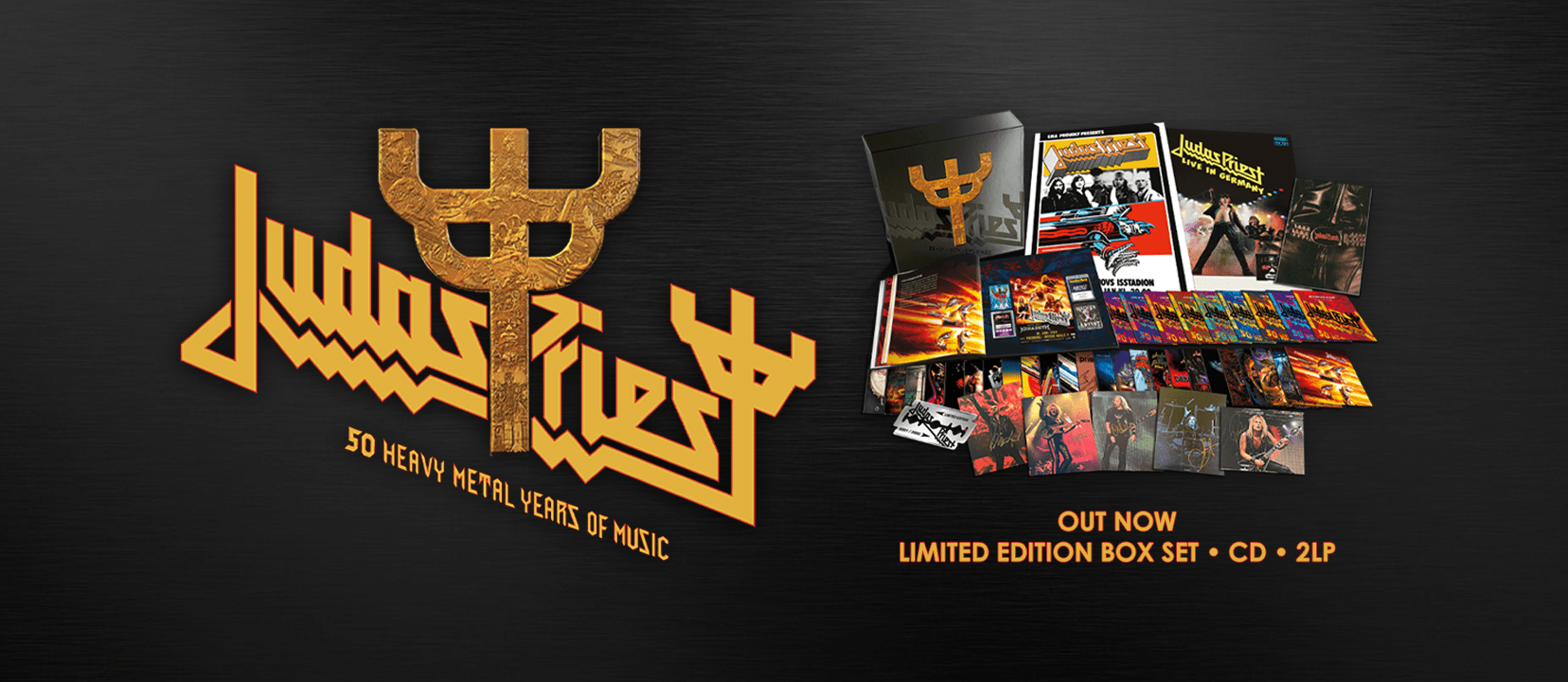 REFLECTIONS – 50 HEAVY METAL YEARS OF MUSIC
1CD
Let Us Prey / Call for the Priest 
You Don't Have to Be Old to Be Wise 
Fever 
Eat Me Alive 
All Guns Blazing 
Never The Heroes 
Dissident Aggressor (Live) 
Out in the Cold (Live) 
Judas Priest Running Wild (Live) 
*Victim Of Changes (Live)  (May 09, 1978 – Cleveland, OH – Agora Theatre)
*The Green Manalishi (With the Two Pronged Crown) (Live)  (Point of Entry 'Worldwide Blitz' Tour – Live in Hammersmith, London – November 21, 1981 – Foundations Forum – Hammersmith Odeon)
*Bloodstone (Live) (Screaming For Vengeance World Vengeance Tour – Live in Atlanta, GA – December 11, 1982 – The Omni)
*Judas Priest – The Ripper (Live)  (Irvine, CA – July 12, 1991 – Irvine Meadows Amphitheatre)
*Beyond the Realms of Death (Live) (Killing Machine/Hell Bent For Leather Tour – Live In New York, NY – March 11, 1979 – The Mudd Club)
*The Hellion / Electric Eye (Live) (Turbo 'Fuel For Life' Tour – Live In Houston, TX – June 21, 1986 – The Summit)
*Sinner (Live) (Ram It Down 'Mercenaries Of Metal' Tour – Live In New Haven, CT – August 7, 1988 – New Haven Veterans Memorial Coliseum)
*previously unreleased
REFLECTIONS – 50 HEAVY METAL YEARS OF MUSIC
2LP DOUBLE GATEFOLD RED VINYL, 180GSM
SIDE A
Let Us Prey / Call for the Priest 
You Don't Have to Be Old to Be Wise 
Fever 
Eat Me Alive 
SIDE B
All Guns Blazing 
Never The Heroes 
Dissident Aggressor (Live) 
Out in the Cold (Live) 
Judas Priest – Running Wild (Live) 
SIDE C *previously unreleased*
Victim Of Changes (Live)  (May 09, 1978 – Cleveland, OH – Agora Theatre)
The Green Manalishi (With the Two Pronged Crown) (Live)  (Point of Entry Worldwide Blitz'
Tour – Live in Hammersmith, London – November 21, 1981 – Foundations Forum – Hammersmith Odeon)
Bloodstone (Live) (Screaming For Vengeance World Vengeance Tour – Live in Atlanta, GA – December 11, 1982 – The Omni)
Judas Priest – The Ripper (Live)  (Irvine, CA – July 12, 1991 – Irvine Meadows Amphitheatre)
SIDE D *previously unreleased*
Beyond the Realms of Death (Live) (Killing Machine/Hell Bent For Leather Tour – Live In New York, NY – March 11, 1979 – The Mudd Club)
The Hellion / Electric Eye (Live) (Turbo 'Fuel For Life' Tour – Live In Houston, TX – June 21, 1986 – The Summit)
Sinner (Live) (Ram It Down 'Mercenaries Of Metal' Tour – Live In New Haven, CT – August 7, 1988 – New Haven Veterans Memorial Coliseum)
BOXSET:
50 HEAVY METAL YEARS OF MUSIC
TRACKLISTING
• CDs housed in mini LP Japanese-style wallets
• Box set designed by long-time Judas Priest collaborator Mark Wilkinson
• Includes Ross Halfin photos signed by each band member:
• Rob Halford
• Glenn Tipton
• Ian Hill
• Richie Faulkner
• Scott Travis
• Numbered British Steel metal razor blade (blunt)
• Memorabilia book featuring rare photos, posters, adverts and passes
• Replica British Steel tour programme
• Two Replica Tour posters from:
• British Steel 1980 German Tour
• Defenders Of The Faith 1984 European Tour
CD1 – Rocka Rolla
CD2 – Sad Wings of Destiny
CD3 – Sin After Sin (1977)
CD4 – Stained Glass (1978)
CD5 – Killing Machine – (1978)
CD6 – Unleashed In the East (Live in Japan 1979)
CD7 – British Steel CD8 – Point Of Entry
CD9 – Screaming for Vengeance
CD10 – Defenders of the Faith
CD11 – Turbo
CD12 & CD13 – Priest… Live!
CD14 – Ram It Down
CD15 – Painkiller
CD16 – Jugulator
CD17 & CD18 – '98 Live Meltdown
CD19 – Demolition
CD20 & CD21 – Live in London
CD22 – Angel of Retribution
CD23 – Nostradamus (Act 1) & CD24 – Nostradamus (Act 2)
CD25 – A Touch Of Evil Live
CD26 & CD27 – Redeemer of Souls
CD29 – Firepower
5 previously unreleased live stereo recordings from the archives
Restored and edited by Tom Allom at La Cucina W8
Mastered by Alex Wharton at Abbey Road Studios, London
CD30 & CD31 – Live In Atlanta '82 (Previously Unreleased)
CD30
The Hellion / Electric Eye
Riding on the Wind
Heading Out to the Highway
Metal Gods
Bloodstone
Breaking the Law
Sinner
Desert Plains
The Ripper
Diamonds and Rust
CD31
Devils Child
Screaming for Vengeance
You've Got Another Thing Coming
Victim of Changes
Living After Midnight
The Green Manalishi (With the Two Pronged Crown)
Hell Bent For Leather
CD32 – Live At The Mudd Club '79
Hell Bent For Leather
Delivering The Goods
Running Wild Beyond
The Realms Of Death
Victim Of Changes
Rock Forever
Starbreaker
CD33 & CD34 – Live In Houston '86
CD33
Out In The Cold
Locked In
Heading Out To The Highway
Metal Gods
Breaking The Law
Love Bites
Some Heads Are Gonna Roll
The Sentinel
Private Property
Desert Plains
Rock You All Around The World
CD34
The Hellion/ Electric Eye
Turbo Lover
Freewheel Burning
Victim Of Changes
The Green Manalishi (With the Two Pronged Crown)
Living After Midnight
You've Got Another Thing Comin'
Hell Bent For Leather
CD35 & CD36 – Live In New Haven '88
CD35
The Hellion/ Electric Eye
Metal Gods
Sinner
Breaking The Law
Come And Get It
I'm a Rocker
The Sentinel
The Ripper
Beyond The Realms Of Death
Some Heads Are Gonna Roll
CD36
Turbo Lover
Ram It Down
Heavy Metal
Victim Of Changes
The Green Manalishi (With the Two Pronged Crown)
Living After Midnight
You've Got Another Thing Comin'
Hell Bent For Leather
CD37 – Los Angeles '90 (Previously Unreleased)
Riding on the Wind
Grinder
Heading Out to the Highway
Between the Hammer & the Anvil
Bloodstone
Better by You, Better Than Me
Leather Rebel
The Green Manalishi (With the Two Pronged Crown)
Hell Bent for Leather
You've Got Another Thing Coming
CD38 – London '81(Previously Unreleased)
Solar Angels Intro / Heading Out to the Highway
Metal Gods
Hell Bent for Leather
Breaking the Law
Sinner
Beyond the Realms of Death
Grinder
Desert Plains
You Don't Have to Be Old to Be Wise
Victim of Changes
The Green Manalishi (With the Two Pronged Crown)
CD39 – Denver '80 (Previously Unreleased)
Hell Bent for Leather
The Ripper
Running Wild
Living After Midnight
Sinner
Beyond the Realms of Death
You Don't Have to Be Old to Be Wise
Grinder
Victim of Changes
Steeler
Genocide
Tyrant
The Green Manalishi (With the Two Pronged Crown)
CD40 – Irvine '91 (Previously Unreleased)
Hell Bent for Leather
Heading Out to the Highway
The Hellion / Electric Eye
Diamonds and Rust
All Guns Blazing
Metal Gods
Some Heads Are Gonna Roll
The Ripper
Night Crawler
Turbo Lover
A Touch of Evil
Painkiller
The Green Manalishi (With the Two Pronged Crown)
Breaking the Law
Living After Midnight
You've Got Another Thing Coming
CD41 & CD42 – Beyond Live & Rare
Previously unreleased stereo recordings from the archives
CD41
Epitaph (Studio Demo) Demo from 1976's Sad Wings Of Destiny
Solar Angels (Live) July 22, 1981 – New York, NY – The Palladium
Sinner (Live) July 22, 1981 – New York, NY – The Palladium
Desert Plains (Live) July 22, 1981 – New York, NY – The Palladium You Don't Have To Be Old To Be Wise (Live) July 22, 1981 – New York, NY – The Palladium
Genocide (Live) May 09, 1978 – Cleveland, OH – Agora Theatre
Victim Of Changes (Live) May 09, 1978 – Cleveland, OH – Agora Theatre
Ripper (Live) May 09, 1978 – Cleveland, OH – Agora Theatre
Screaming For Vengeance (Live) November 24, 1982 – Tucson, AZ – Tucson Convention Center
The Green Manalishi (With The Two Pronged Crown) (Live) June 07, 1981 – Odessa, TX – Ector
County Coliseum Victim of Changes (Live) June 07, 1981 – Odessa, TX – Ector County Coliseum
CD42
Tyrant (Live) June 07, 1981 – Odessa, TX – Ector County Coliseum
Diamonds and Rust (Live) February 14, 1981 – Amsterdam, Netherlands – Jaap Edenhal
White Heat Red Hot (Live) July 29, 1978 – Tokyo, Japan – Yuubin Chokin Hall
Better By You Better Than Me (Live) July 29, 1978 – Tokyo, Japan – Yuubin Chokin Hall
Starbreaker (Live) July 29, 1978 – Tokyo, Japan – Yuubin Chokin Hall Rock
Forever (Live) Killing Machine Tour – February 09, 1979 – Tokyo, Japan – Kōsei Nenkin Kaikan
Evil Fantasies (Live) Killing Machine Tour – February 09, 1979 – Tokyo, Japan – Kōsei Nenkin Kaikan
Troubleshooter (Live) World Wide Blitz Tour – February 29, 1981 – Wiesbaden, Germany – Rhein-Main-Halle
Grinder (Live) World Wide Blitz Tour – February 29, 1981 – Wiesbaden, Germany – Rhein-Main-Halle
The Sentinel (Live) May 02, 1984 – Albuquerque, NM – Tingley Coliseum Freewheel
Burning (Live) May 02, 1984 – Albuquerque, NM – Tingley Coliseum All Guns
Blazing (Live) August 17, 1991 – Montreal, QC, Canada – Forum de Montreal
Painkiller (Live) March 26, 1991 – Sheffield, England – Sheffield City Hall Mother
Sun (Live) October 11, 1975 – Slough, England – Slough College
REFLECTIONS – 50 HEAVY METAL YEARS OF MUSIC