Pestilence – Exitivm | CD
I have been looking forward to hearing the new Pestilence album, mostly because it marks the Pestilence recording debut of one of my good friends and erstwhile band mate, Joost van der Graaf, on bass. I just knew that his thundering, big fucking bass in your face-presence was going to make the band sound heavier. The further addition to the line-up of two other heavy virtuosos, Michiel van der Plicht, on drums, and Rutger van Noordenburg, on guitar, has compounded this effect.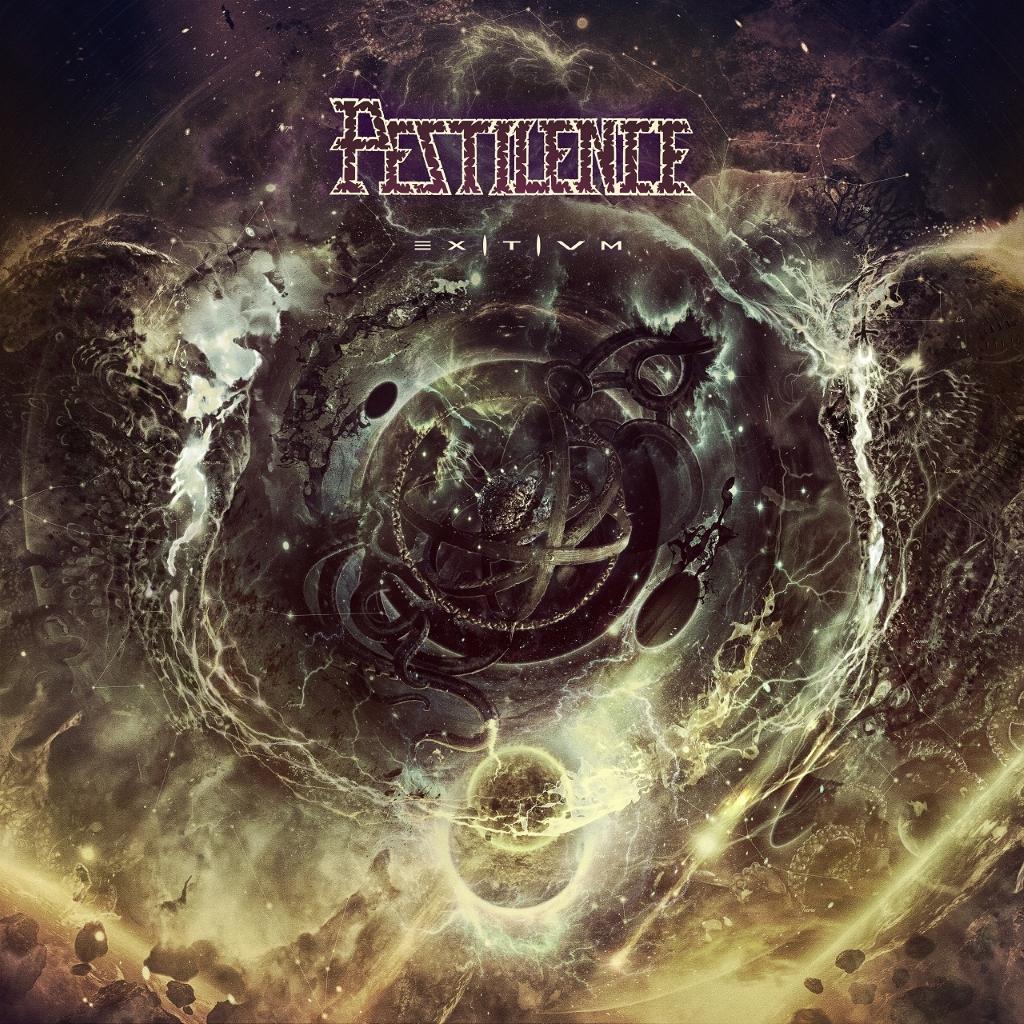 Pestilence sounds better in this line-up. All of their names are also significantly easier to pronounce than many of the transients who have featured in Pestilence in recent years and it probably makes band communication a little easier (I wonder if Mr Mameli actually ever learned how to say '1, 2, 3, 4' in drunken Romanian?) Anyway, the three newbies have cut their teeth in a variety of haute-metal bands and it only seems right that they should board the mothership of Dutch metal for a warp-speed trip into riff space. Patrick Mameli is of course the mainstay of this 'enigmatic' band that has been plying it's trade since the mid-eighties and I certainly found myself wondering what kind of intense, sonic madness these four paragons of Dutch metal were going to pull together… and now I know! So read on, Padawan!
So, let me commence with a few general comments. First up, the title, 'Exitium'. A quick tap on the keyboard reveals that it means 'destruction, ruin, doom, demolition, catastrophe'. All very pleasant and apt in these bleak, vapid times of pandemic. As for the tracklist, well, it's twelve songs all with latin names: In Omnibvs, Morbvs Propagationem, Deificvs, Sempiternvs, Internicionem, Mortifervm, Dominatvi Svbmissa, Pericvlvm Externvm, Inficiat, Exitivm, Immortvos, and Personatvs Mortem. I really couldn't be arsed to translate all the titles, sorry, but for an insight into how to spell and conjugate in latin, I refer you to the scene in 'Monty Python's Life of Brian' where Brian is tasked with writing 'Romans go home!' on the walls of Pontius Pilate's residence.
Yes, it's fucking difficult and no wonder it's an obsolete language, now used only sparingly in auto-signatures, the purpose of which is to make the signatory seem philosophical ergo up his or her own smart arse… et cetera, ad infinitum, semper. Either way latin does make for good song titles, conjuring up images of legions of tanned, skirt-wearing, gladius-wielding slaughterers doling out bloody destruction across Europe and Africa… or, as I prefer, visions of scantily toga-clad, raven-haired, olive-skinned maidens feeding me grapes as I recline on my bear fur-lined divan while being 'pleasured' by a nubian slave girl… or just names of flowers or illnesses. Take your pick! The album cover is beautiful, enough said.
Right, enough bollocks, what about the album. Well, in all honesty, it took me a few listens to really get my head around it. It's just so intense; perhaps even too intense, especially for an old fart like myself. I also think it's somewhat of a mixed bag. On the upside this album contains some monstrously good riffs. The standouts are in Morbvs Propagationem, the verse riff in Internicionem, the third (pre-chorus) riff in Mortifervm (the bit which includes 'look at the sun', it's an absolutely fucking brilliant scream your throat off piece – . classic Mameli right there, friends), the opening riff on Dominatvi Svbmissa (a chunky piece of heaviness which hooks around with dissonant then resolving harmonies – beautiful), the Sepultura-like riff in Deificvs, and the opening to Exitivm which is simply a great Pestilence riff although it's somewhat ruined by an up it's own arse and unnecessarily freakish progression at the turn of the riff. Incidentally that song just makes me want to reach for some valium.
The album also has some pretty good vocals this time around and Mameli's singing here is certainly an improvement on Pestilence's last outing… the songs sound more like he means business and I would hazard a guess that an anger management course wouldn't go amiss. The lines in the opening track are really, really brutal and they set the stage for the rest of the album. As already mentioned the pre-chorus (or is it the chorus?) on Mortifervm is just wonderful! That, my friends, is how metal should sound! The drumming is stellar but with van der Plicht bashing the skins it's to be expected. As for the lead work, well I'm in two minds. Morbvs Propagationem, Internicionem, Mortiferum have great leads, as does Inficiat. The lead on Internicionem realy tells a story in the way that a great lead should do. Some of the leads don't do it for me, however, just lots of freaking in the same unresolving pattern,up and down the fretboard. I get the idea, it's just not my thing. As for the bass, well I knew it would be thunderous and it is… it gives Pestilence more balls than they've had since Consuming Impulse and Testimony of the Ancients. The little 'musical' intermezzos on the album are, in places, great but largely superfluous. I ask myself what they actually add to this album. The answer is very little actually. They sound nice though. I actually really like the outro. I've always loved crows, especially when they're feeding on the dead!
This band comprises four top-notch musicians, I would even argue that the four best Dutch metal musicians are now working in the same band, and what they play is played exceedingly well. For me, there are three standout tracks on this album: Morbvs Propagationem (it really kicks you in the head and is a perfect opener), Internicionem (by far my favourite track on the album… this is Testimony-era Pestilence version 2.0 with crunchy riffs, open power chords, weird juxtapositions of eerie melody and staccato single note riffs – classic Pestilence), and Mortiferum (my second fave song… I love the spooky voices in the intro, I really like the riffs and I love the leads). All of the other songs have some great bits and pieces, for example Dominatvi Svbmissa which opens brilliantly but perhaps lacks dynamics and direction. I do, however, love the quirky, sci-fi noise at 2m51! Inficiat also deserves a mention as it features a nu metal-like riff which is sort of a welcome relief from the riff mayhem flooding the rest of the album… I also love the vocals on this track – this song literally growls at you! Weaker tracks are, in my opinion, Pericvlvm Externvm, Immortvous and Exitivm, although Exitium opens with a great riff and has an odd but cool pre-chorus.
If I could think of one word to describe this album it would be 'intense'. The riffs are tense, the vocals are tense, the leads are tense and there is very little melodic resolution which makes the album sound very nervous. I'm guessing that's intentional! It took a good four listens before I could find the album's vibe. Pestilence, for me, are at their best when they mix floating power chord riffs with staccato single note chunkiness, melodic leads, and a bit of weirdness… and there are four or five tracks on this album that do that perfectly… but when it's too intense the intentionally intense bits lose their intensity and just sink into the mire of tenseness. Got it? Having said all that I think this is Pestilence's best offering for years and I'm really looking forward to hearing what these four come up with next.
01. In Omnibvs (Intro) 02:45
02. Morbvs Propagationem 03:20
03. Deificvs 03:35
04. Sempiternvs 03:41
05. Internicionem 03:36
06. Mortifervm 03:49
07. Dominatvi Svbmissa 03:08
08. Pericvlvm Externvm 03:24
09. Inficiat 03:03
10. Exitivm 03:09
11. Immortvos 03:17
12. Personatvs Mortem (Outro) 02:11
Line up:
Patrick Mameli – guitars
Joost Van der Graaf – bass
Rutger van Noordenburg – guitars
Michiel van der Plicht – drums