Aggression - From Hell with Hate | CD
Erik van Dijk | 17 november 2022
Aggression is een thrash metal band uit Canada ontstaan in 1985. Na tweetal onderbrekingen is de band rond Denis "Sasquatch" Barthe sinds 2014 weer actief en op 17 november verschijnt het vijfde album 'From Hell with Hate' via het Spaanse Xtreem Music.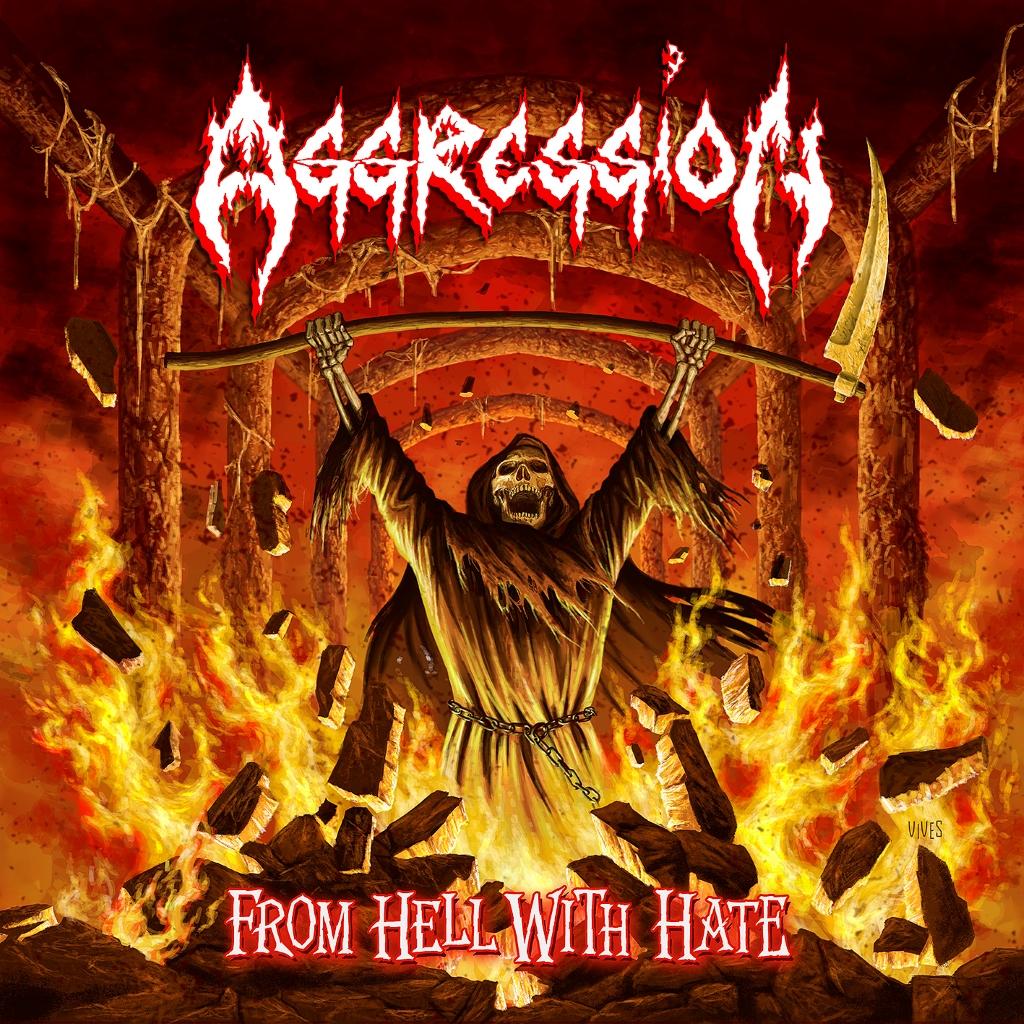 Aggression kent door de jaren heen tal van line-up wisselingen en zanger / gitarist Denis "Sasquatch" Barthe is het enige originele bandlid. Gitarist Dave Watson en drummer Ryan Idris zijn sinds de tweede hereniging in 2014 actief, waar bassist Kyle Hagen pas sinds dit jaar actief is in Aggression. 'From Hell with Hate' telt maar liefst twaalf nummers en opent met het nummer 'Iesus Nazarenus, Rex Iudaeorum'. Na het intro trapt Aggression af op hoge snelheid. Het nummer doet soms wat denken aan Slayer met name door de snelheid, agressie en het Satanische gehalte. Een lekker nummer met groovende stukken en verschillende tempowisselingen.
'Antichrist Devil Cunt' dendert in een sneltreinvaart verder met korte breaks en agressieve vocalen. Ineens horen we vrouwelijke vocalen, ietwat iel en hoog, waarbij de samenhang mij ontgaat. De dame krijgt overigens geen credit voor haar input. Nummers als 'Return of the Frozen Aggressor' en 'Let's Burn this Church to the Ground' vertalen zich het best als de titel van het vierde album: "Feels Like Punk, Sounds Like Thrash". Lekkere thrash nummers die doen denken aan de band Nuclear Assault. Hoog tempo, de basis niet te ingewikkeld en toch hoor je de korte technische riffs er doorheen knallen. Mooi voorbeeld is het instrumentale 'Precise Execution' waar een meer complexere songstructuur hoort.
De kortere nummers als 'The Nightstalker', 'Worthy of Death' en 'One for the Woods' zijn lekkere en snelle beukers zonder nuance maar "straight in your face". Wanneer de nummers langer worden krijgen ze ook meer inhoud echter werkt dit niet altijd. 'Crows of Still Creek' is weinig spannend en weet niet te imponeren, waar een nummer als 'Left Hand Larceny' beduidend meer te bieden heeft. Lekkere tempowisselingen, waar meer technische riffs en zelfs een vermakelijke gitaarsolo.
Al met al kunnen we zeggen dat Aggression met 'From Hell with Hate' een zeer vermakelijk thrash album brengt. Het motto "Feels Like Punk, Sounds Like Thrash" is er één die voor een groot deel van de nummers op gaat.
01. Iesus Nazarenus, Rex Iudaeorum 06:38
02. Antichrist Devil Cunt 04:16
03. Return of the Frozen Aggressor 05:04
04. The Inner Circle (inst.) 02:10
05. Let's Burn this Church to the Ground 04:11
06. The Nightstalker 03:32
07. Precise Execution 01:02
08. Worthy of Death 04:39
09. One for the Woods 03:39
10. Crows of Still Creek 05:17
11. Ouija (Zozo's Board) 04:34
12. Left Hand Larceny 07:22
Line up
Denis "Sasquatch" Barthe – Vocals, guitar
Dave "Watts" Watson – Guitar
Kyle "Viking" Hagen – Bass
Ryan "Quatchi" Idris – Drums