Interview Flotsam and Jetsam, Eric A.K. en Michael Gilbert do the talking
Alex Thrasher | 4 juni 2021
With 'Blood in the Water' Flotsam and Jetsam releases the 14th album in 35 years (release date is June 4th); worth a compliment. Not in the least for measuring up to the level of the first 2 classics (Doomsday for the Deceiver and No Place for Disgrace) with their latest albums. But also because the new album may be one of the heaviest in the band's career. Reason enough to speak to the band about developing this album, the tour dates but also the meaning of the band name (since it's a little more original than Slayer, Death or Satan).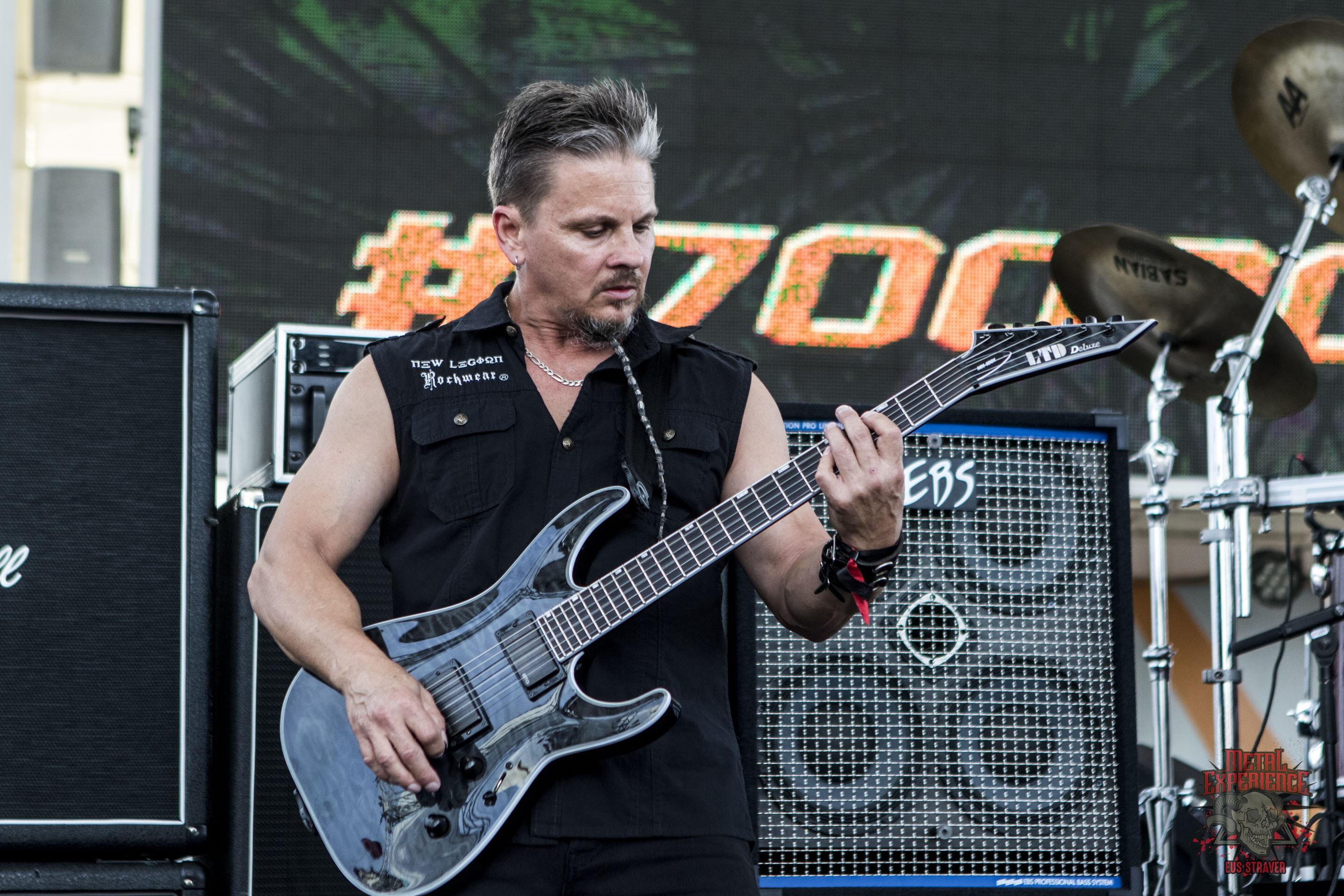 Skype
We intented to speak together, guitar player Michael Gilbert, singer AK (Eric Knutson) and myself, but Skype challenged that. I therefore expected to interview only Michael Gilbert, but afterwards AK contacted me to answer some questions. Goes to show the friendliness of these guys.
70000 tons of Metal Cruise
I told Michael the last time I saw the band live was on the 70000 tons of Metal Cruise in January 2020. Upon my question how he remembers this Floating Festival he reacts excitedly: "It was very cool! I wish I could do it every year. If not to perform, then as a fan". He laughs out loud and adds: "The alcohol consumption aboard assured killing COVID-19". I wisely withheld comment.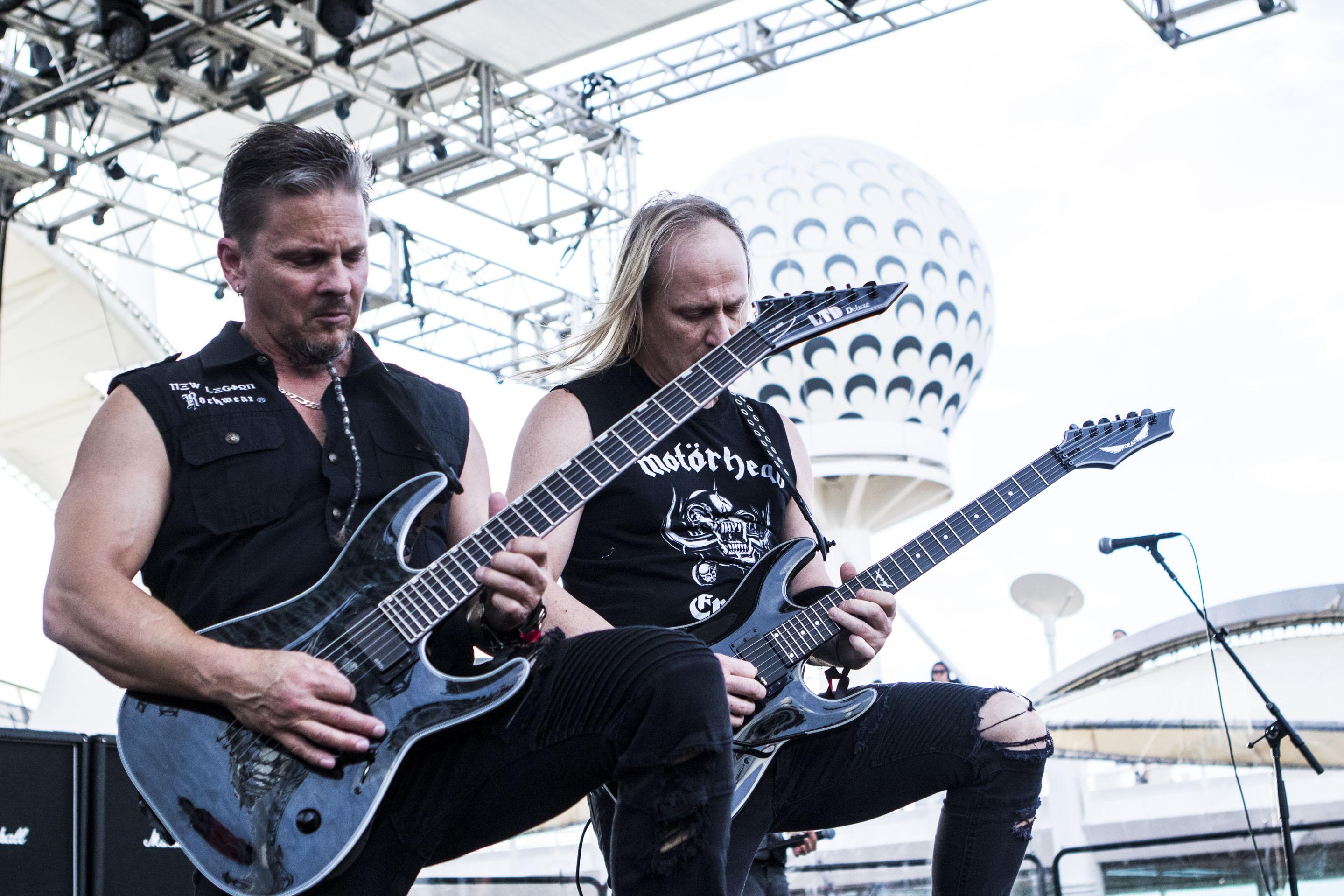 The new album
I congratulate Michael on the new album and express my appreciation for being still active after 35 years. Visibly proud he states to be lucky the band is still relevant in the business. Especially after the 90's: "It was almost a curse to be in metal".
Then I ask him if COVID-19 in any way changed the recording process. Michael refutes by explaining the process was the same; they all recorded their own parts in their studios at home. Of course, there was some pressure because the previous album (Prepare to Chaos) did so well. When I tell him they succeeded in matching (or even exceeding) the previous album he replies with a thumbs up and a big smile.
I ask him about the meaning of the sharks in the title track; do they refer to the media? Michael: "No, on the contrary! The media have always treated us well, so no complaints there. The sharks are everywhere you turn these days. You pay money to be on the internet, yet you need to buy virus protection because people are stealing stuff online.
The Cold
Michael hasn't been part of the band between 1999-2010 and rejoined at the album 'Ugly Noise' (2012). I tell him that the album prior to this ('The Cold') is a very popular one in The Netherlands. Is he able to listen to it? (Since it's not played live). Michael laughs and replies: "Sure I can listen to it. Even though it's as if you catch another guy in bed with your girlfriend. Flotsam and Jetsam is still my band you know!"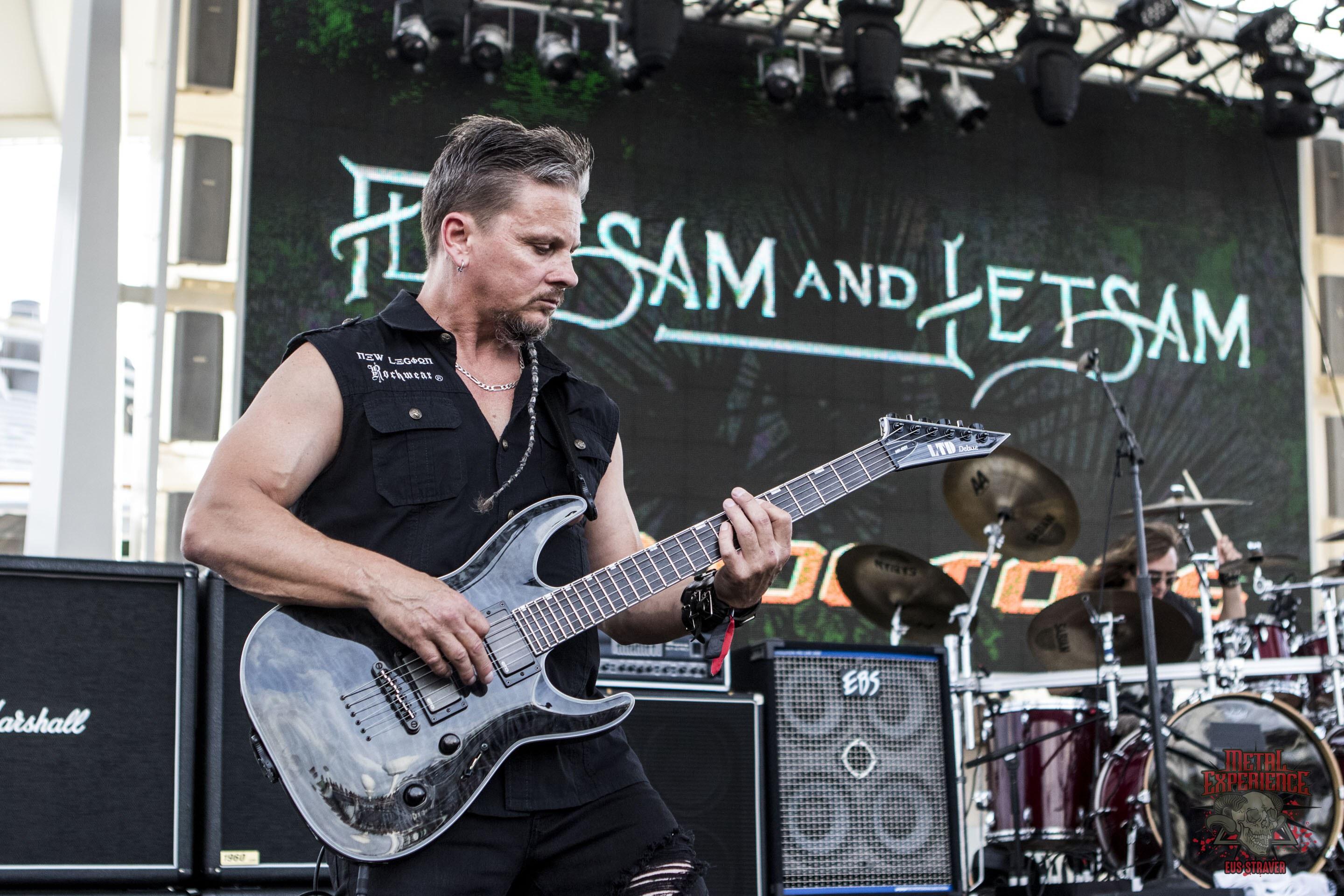 Thrash is back!
A lot of bands put off releasing new material until new tour dates are in sight. In my opinion this is a shame since fans now have the funds to buy cd's and vinyl, because of the lack of concerts and bars having been closed until recently. Michael listens carefully and admits not having thought of this. "You've got a point; there will be so many concerts and album releases, fans will have to make choices. Ours was a timing thing; we rushed to get the album completed for our scheduled tour with Accept in January 2021. All tours got cancelled, but we still chose to release the album."
I asked him if he can explain how 80's thrash-bands still exist and release such great albums. And that there are so few promising new bands. Michael thinks about this for a while and states: "I don't know, great question. I think modern bands sound a little too polished, a little too perfect. Older bands know when a song is good and ready." We end the interview by expressing the hope to meet each other soon at a concert or festival (Dynamo Metal Fest 2022?) and catch up while enjoying a beer.
As stated, I had a chance to speak to AK, so I saved some questions for him.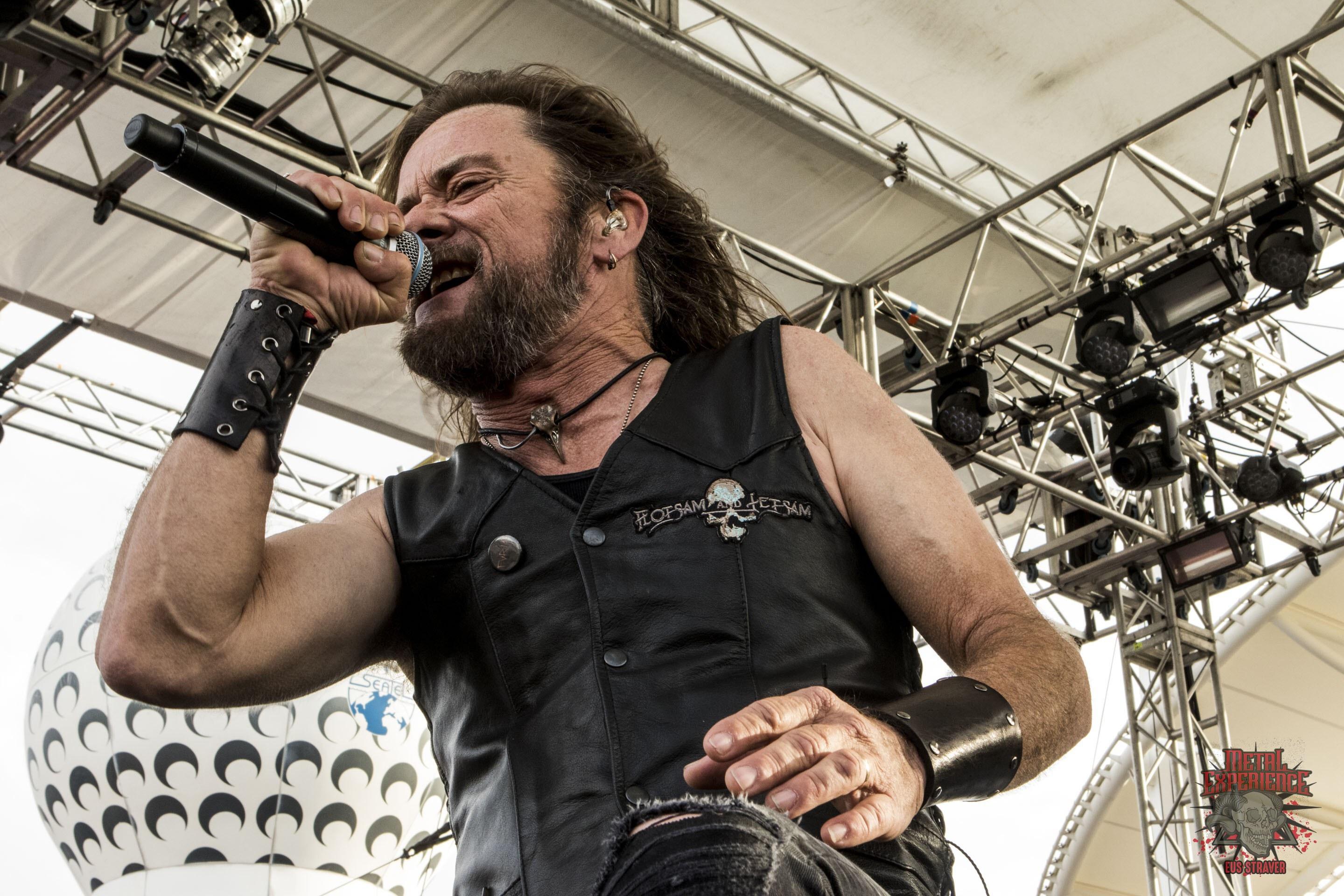 Flotsam and Jetsam
After also congratulating AK with the fantastic new album, I finally get a chance to ask what the hell is the story with the band's name. AK laughs and explains that it originates at Tolkien's book 'The Two Towers': "Flotsam and Jetsam is a chapter in this book and Jason Newsted introduced it back then. Eventually we discovered that the term also refers to 'garbage' and 'trash' as well as 'bums on the street'. So, we decided these terms fit us quite well haha! Obviously we are questioned about our band's name, because it doesn't have a 'metal sound' to it, but it refers to outcasts in society and we should be able to relate to that right?"
Before even asking he adds: "The name has nothing to do with Disney's 'Little Mermaid', which features two eels named Flotsam and Jetsam. Some people still thing we got inspired by that haha!"
Album title
Upon asking AK also states that the term 'sharks' do not refer to the media. "Dealing with the media has solely been a positive experience. To me sharks are people making a dollar off of our backs."
Setlist
With their 14 albums the band has over 150 songs to choose from when creating a setlist. I ask AK if he would ever like to add a few songs to this setlist. He replies: "Of course our classics 'Hammerhead' and 'No place for disgrace' are pretty much mandatory, but I'd love to play a song off of 'Drift'; 'Missing' for example. Problem is, this kills the speed in the show, so we choose the up-tempo tracks." AK tells me he can't wait to tour again and meet new people to drink a beer with. That has got to be the best of being in our business, he claims.
I thank AK for this interview and grab a beer, because all this talk about having a drink makes me crave one.
This interview has been translated by IDS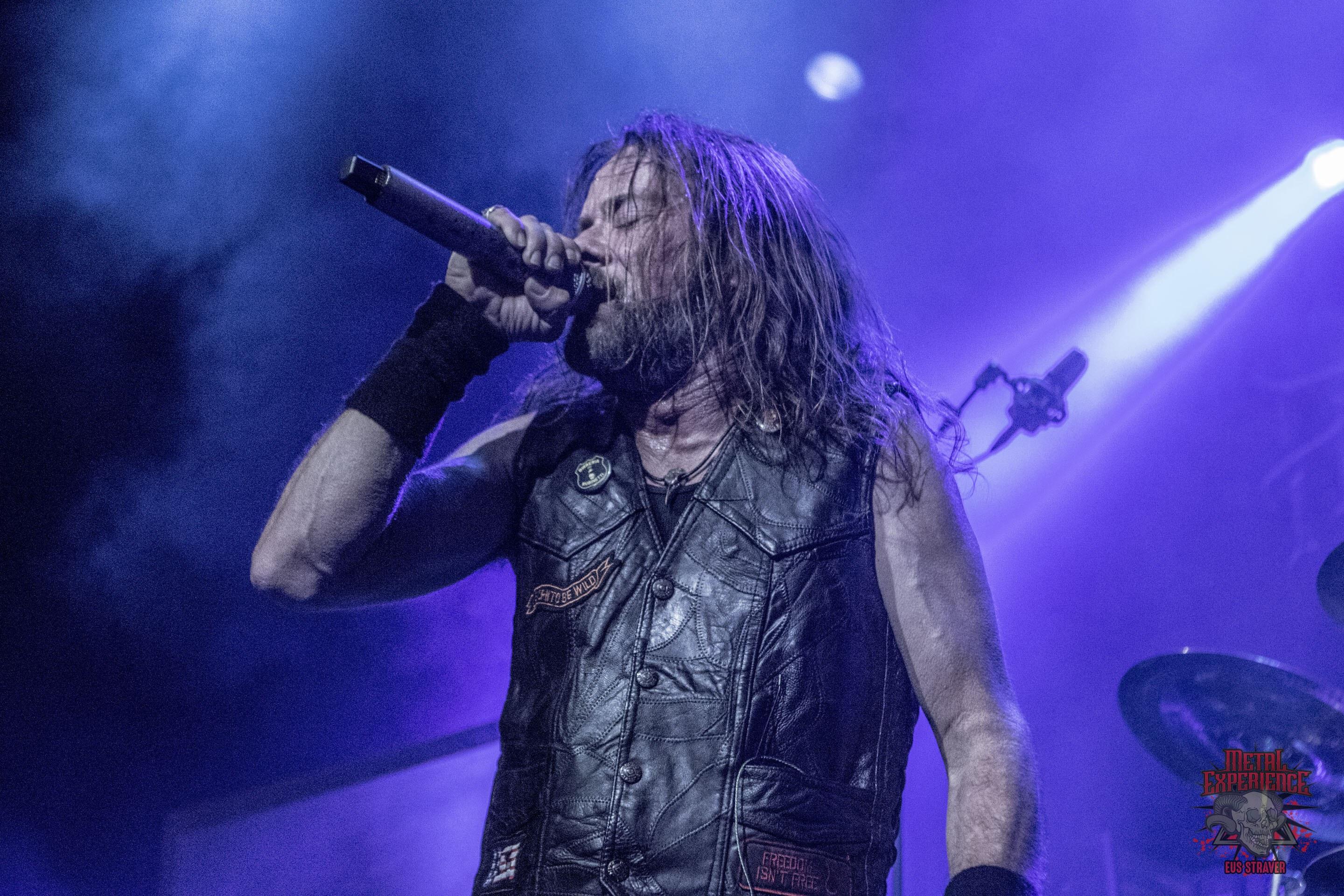 Current Line-up:
Michael Gilbert – Guitars
Eric A.K. – Vocals
Steve Conley – Guitars
Ken Mary – Drums
Bill Bodily – Bass
Albums:
Doomsday For The Deceiver (1986)
No Place For Disgrace (1988)
When The Storm Comes Down (1990)
Cuatro (1992)
Drift (1995)
High (1997)
Unnatural Selection (1999)
My God (2001)
Dreams Of Death (2005)
The Cold (2010)
Ugly Noise (2013)
Flotsam & Jetsam (2016)
The end of Chaos (2019)
Blood in the Water (2021)